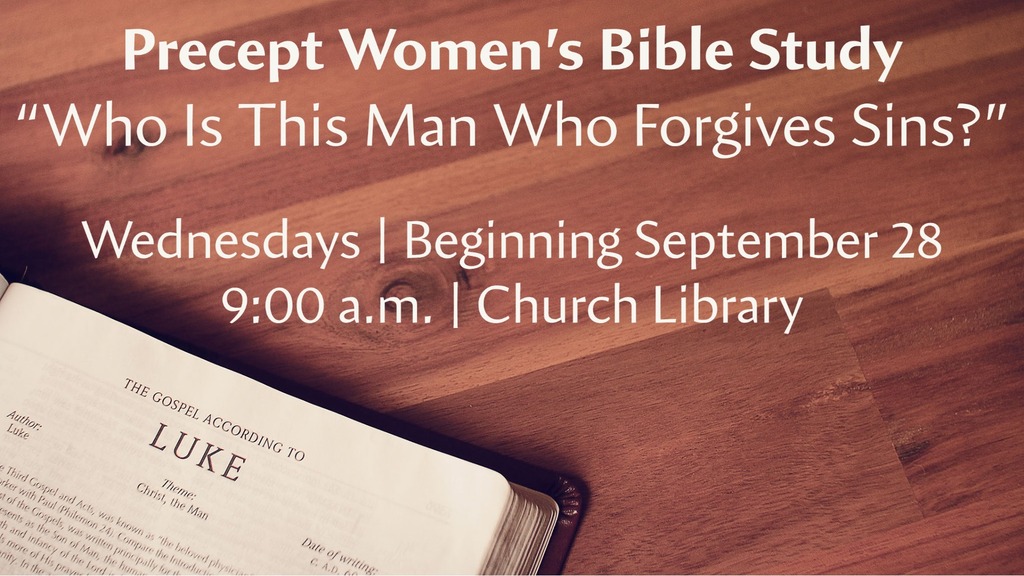 Precept Study (Women)
Every week on Wednesday until May 24, 2023 from 9:00a to 11:00a
Precept Study of Luke: Women's Bible Class
"Who is This Man Who Forgives Sins?"
This 11-week study will meet in the church library on Wednesday mornings from 9-11 am beginning September 28, 2022.
Precepts Upon Precepts is an in-depth study method that uses God's Word to explain God's Word. After each class discussion, a video that expands upon the lesson will be shown. Join us as we learn from our Savior what it really means to "follow Him."
An 11-week Precept.org study of the gospel of Luke. Choose the workbook that fits your schedule! Participants are encouraged to attend even if homework has not been completed.
- The Precept Upon Precept workbook requires approximately 4 hours/week of homework.
- The In & Out workbook requires approximately 1 hour/week. At the end of each class discussion, a video will be shown.
Note: There is no childcare offered for this class.
Register for the class by September 21, 2022, at:
https://stonehillprinceton.ccbchurch.com/goto/forms/350/responses/new
Questions? Contact Nancy Tonnessen at nancytonnessen@comcast.net or (908) 399-1334.