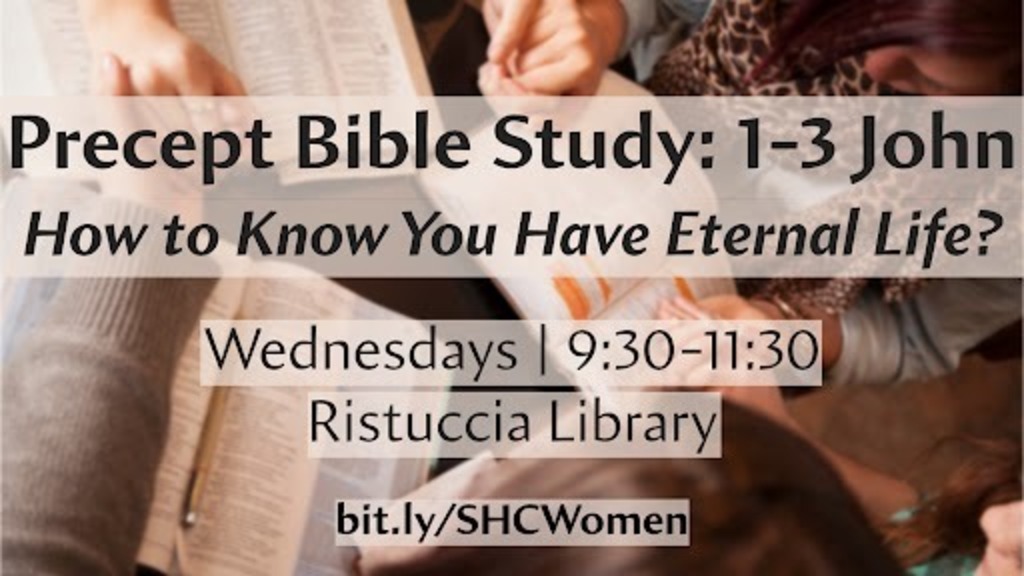 Precept Study (Women)
Every week on Wednesday until Nov 15, 2023 from 9:30 am to 11:30 am
Precept Study of 1 John and 2 & 3 John: Women's Bible Class
"How to Know You Have Eternal Life?"
How do you know if you're really born again? What does it mean to be holy. . . to love God? Find answers to these and other questions as you take a look back at the fundamentals of Christian beliefs.
This 7-week study meets in the church library on Wednesday mornings from 9:30-11:30 am
Precepts Upon Precepts is an in-depth study method that uses God's Word to explain God's Word. After each class discussion, a video that expands upon the lesson will be shown. Join us as we learn from our Savior what it really means to "follow Him."
Choose the workbook that fits your schedule! Participants are encouraged to attend even if homework has not been completed.
- The Precept Upon Precept workbook requires approximately 4 hours/week of homework.
- The In & Out workbook requires approximately 1 hour/week. At the end of each class discussion, a video will be shown.
Note: There is no childcare offered for this class.
Register for the class by September 27, 2023, at:
https://stonehillprinceton.ccbchurch.com/goto/forms/350/responses/new
Questions? Contact Nancy Tonnessen at nancytonnessen@comcast.net or (908) 399-1334.