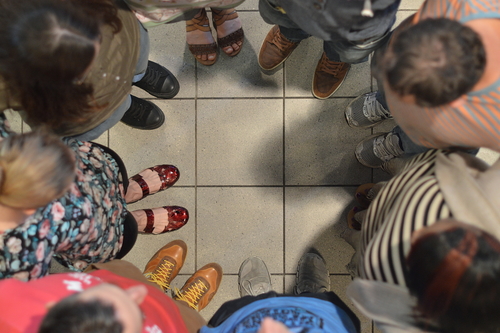 The Multi-Ethnic Church: A Goal to Strive For
January 13, 2023 | Debbie Boyce
Last September, the Koinonia Team hosted a book discussion of John Perkins' book, One Blood: Parting Words to the Church on Race and Love. Perkins was born in 1930 in Mississippi, and is an "American Christian minister, civil rights activist, Bible teacher, best-selling author, philosopher and community developer" (Wikipedia). He and his wife, Vera Mae Perkins, co-founded the Christian Community Development Association. Since One Blood was published, Perkins has followed up with two additional short books: He Calls Me Friend: The Healing Power of Friendship in a Lonely World, and Count It All Joy: The Ridiculous Paradox of Suffering. Perkins wrote these three books in response to the division in the church on matters of race and justice. 
As a member of the Koinonia Team, I (Debbie) have read a lot of books and articles on racial division, history, wrongdoing, and failures of the church. I have listened to many talks. As a white woman of 65 years of age, I am grateful for how these many resources have helped me to become aware of life experiences different from my own. I have tried to read and listen to multiple perspectives, because I believe I can learn something from varied points of view. Even if I don't agree with everything each author or speaker expresses, I believe I can ask a question a counseling professor taught me to ask: "What does this person see clearly and care about deeply?" I believe there is a danger for me if I remain only where I am comfortable, among people who all see life similarly to how I see it. I have benefited greatly by having my eyes opened to history and experience, but many of the perspectives I have read and heard lack teaching on Christian forgiveness, unity, and love. Perkins' book is unusual for its insistence on all three.
John Perkins has lived a life very different from my own. He grew up in a sharecropping family in Mississippi. His mother died of starvation when he was less than a year old, and he was then raised by a combination of relatives. He dropped out of school to work sometime between the third grade and fifth grades. Yet he writes, "by God's grace, I've lectured at world-renowned universities and received honorary doctorates." He became a Christian as an adult, led to the Lord because one of his children became a Christian. He was a participant in the Civil Rights Movement and has dedicated his life to the great cause of reconciliation. Together with his wife, he developed the "3 R's" (relocation, reconciliation, and redistribution) to offer a process to help communities work together to balance some of the inequities of life in America.
He was beaten severely by police in Mississippi and experienced racial hatred. That experience was pivotal in his life, convicting him of the need to live out Christian truth in his own life by forgiving the white police chief who authorized his beating. He writes that he "learned to love others, even those who hated him." We must learn this! It is commanded by Jesus. It is how we become like Him.
Perkins writes these three books out of concern over the racial and political division in the church. He presents the biblical case for unity in the church, urging white Christians to leave their comfort zones, and work for multi-ethnic congregations in which Christians of color share leadership. He also urges black Christians to recommit themselves to unified multi-ethnic churches. This is in part because God's family in heaven is multi-ethnic and partly because Perkins believes  the power of cross-cultural friendships and prayer will bring about blessing here and now. He urges our churches to have a special care for the vulnerable and oppressed in our communities and our nation, because the Bible, both Old and New Testaments, repeatedly teaches God's people to imitate His concern for the vulnerable. He calls us to live out biblical teaching about the necessity of repentance, of forgiveness, and of reconciliation, wherever it is needed. He warns us that obedience to God's word in all these things will be costly and will bring opposition, but he reminds us of the inherent value of our suffering for Christ in this world. In order to patiently endure, we must become people of prayer who love and support one another. Perkins has credibility in part because of his age and life record, but ultimately I urge you to read and heed his books because his teaching is so faithful to God's Word and we desperately need biblical guidance in these difficult issues.
by Debbie Boyce with special thanks to Edith Juarez and the Koinonia team