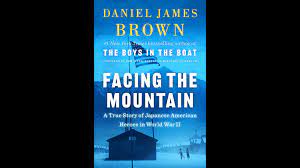 Tracy Reads: Facing the Mountain
October 5, 2021 | Tracy Troxel
Facing the Mountain: A True Story of Japanese American Heroes in World War II
by Daniel James Brown
Daniel James Brown wrote The Boys in the Boat, one of my favorite books of all-time. In his latest book, he recounts the stories of Japanese-Americans who struggled through the difficult days of World War II because of their ethnicity in the United States. When America entered the war in 1941 against Germany, Italy, and Japan, there were 1.2 million German-born individuals living in the United States. The Italian community in the United States was even larger. About 11,500 people of German ancestry and 3,000 of Italian ancestry were incarcerated in the United States throughout the war, but nothing would compare with the pervasive internment of Japanese-Americans and their parents.
Daniel James Brown skillfully tells the stories of Japanese-Americans who struggled with these injustices and their remarkable resilience. At the beginning of the war, over 120,000 Japanese Americans were put into internment camps for the duration of the war. Many of these families lost their businesses, property and homes as they were taken to these camps. Fred Korematsu fought the order to report to the camps and took his case all the way to the Supreme Court. He lost that case and his conviction was not overturned in 1983. Other Japanese-Americans, after being sent to the interment camps, were allowed to join the military and fought with distinction in Europe and in other sections in the U.S. military. Others refused to join the war effort after being detained and suffered the consequences for their decision to resist.
Why read this book?
It is important to see the injustices that have affected others. It is also helpful to see how courageous people responded to injustice in very different ways. These stories give us courage, hope and determination to be people that pursue justice in our own sphere of influence but also in our communities.